2014 PRESS
NEWS
SouthCoast TODAY | Dartmouth Woman Chasing Sanity
with Charity Event in Newport
written by Tim Weisberg
Kyra Lawton believes that women today chase after so many things — personal well-being, career success, their children — that in the end, what they really end up chasing is their own sanity.
That's why the Dartmouth resident is putting on the second annual Sanity Chase at Fort Adams State Park in Newport, Rhode Island on Sept. 14.
---
2013 PRESS
VIDEOS
The Rhode Show
---
NEWS
WPRI | The Sanity Chase: Sunday, October 6
images courtesy of WPRI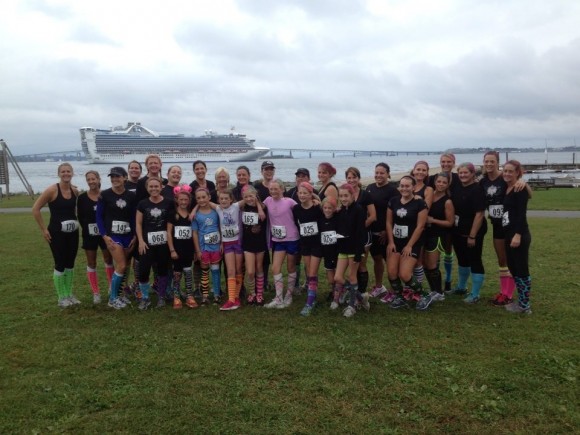 See more…
---
BLOG ARTICLES
Huffington Post | How One Mom Ran With Her Passion and Is Living Her Dream
written by Kristin Meekhof
It is always inspiring to meet a woman who is living her dream. Kyra Lawton is such a woman. She is a busy mom to three school-age children, wife, architect and CEO of Women- Run. She did what many women only dream of one day doing: Growing their passion into a business.
---
Chasing My Sanity
written by Nicole – Running While Mommy
Women's Run – The Sanity Chase, well, what can I say?  It was awesome!
First, let me start by saying, this is one of my most favorite companies.  I discovered them just over two years ago when I was just starting to run.  To be honest, I am not sure exactly how I found them but the moment I saw their products and read their manifesto, I was hooked.  You all know this if you have been reading my blog for a while.
---
I turned 61 AND swam in chocolate at The Sanity Chase!
written by Sharon – MomGenerations.com
I love my birthday. I've loved it for, as of now, 61 years.
I love doing something fun, exciting, adventurous, even a bit daring and playful on my birthday… and I love to involve my family.
Well, on October 6th I ran The Sanity Chase – at the beautiful and historic Fort Adams in Newport, RI –  a 5k distance like no other race I've ever run. Ever! Because the race included not only Running, but Paddle-Boarding, Rock Climbing, Hula Hooping, Tricycle Riding and Sliding into a pool of chocolate.
---
Chasing Sanity
written by Liz O'Donnell – Hello Ladies
Yesterday I participated in my first book related event (and it was a blast). I was a guest speaker at The Sanity Chase, a 5K obstacle course organized by Women Run to benefit The Women's Fund of Rhode Island. Approximately 400 women, including me, ran, paddled, climbed a rock wall, hula hooped, rode tricycles and slid down a water slide.